Office Hours
Mon - Fri 8am - 5pm
Sat/Sun 8am - 5pm
Receive Free Brochure: Learn the benefits of assisted living
We serve the independent and assisted living community since 1972.
Located on the East side of Albuquerque.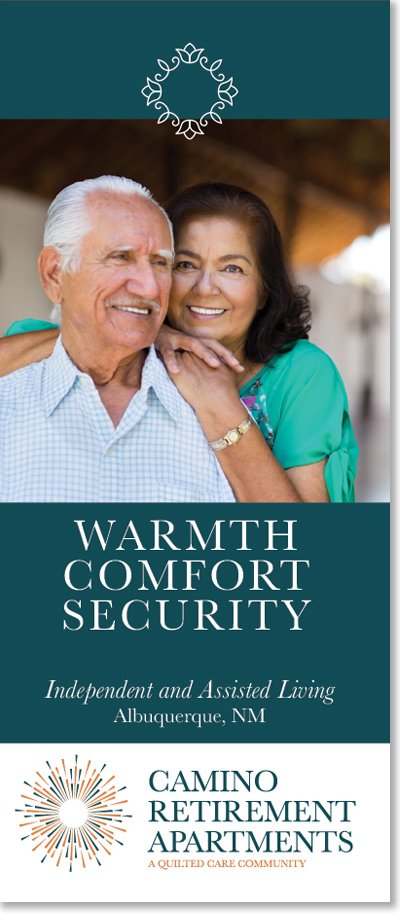 Why do residents choose Camino as their home?
Peace of Mind: 24/7 Care Staffing, Emergency Call System, People Around
Maintenance-Free Living: 3 homemade Meals daily, snacks, Housekeeping, laundry, Transportation to doctors/shopping
Social Living: Activities, Entertainment, Outings and Exercise programs plus Social Opportunities 3 times daily at meals
Affordable and Dependable: Monthly Apartment Rental, no Buy-in, Established Community, All-Inclusive of Care Options, and above amenities. 

No surprises!
Download your FREE Brochure to Camino Retirement Apartments
Please complete this simple equation so we know you are not a robot.
Learn more about Camino
Camino Retirement Apartments is a thriving community. See why our residents love to call this home!
The management at the Camino Retirement Apartments can only be summed up as outstanding!! I placed my 94-yeor-old mother in their care and she was treated was exceptional care and compassion right up to the very last day of her life. I will forever be grateful to CJ Patterson for his commitment to her dignity & the promise of total respect to her & to her family. He provided a staff who truly cared about my mom and was sad when she passed on. Thank you CJ.
WANT TO KNOW MORE? COME TAKE A TOUR!
Sign up below to start the conversation.
Or call us at 505.298.9976